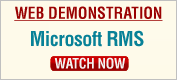 Microsoft RMS Retail Management System
Microsoft Retail Management System (RMS) is a complete retail POS management solution for individuals and multi-store retail pos applications. It enables cashiers to process transactions and serve customers quickly and effectively, and also enables store managers to maintain tight control over inventory, pricing, suppliers, promotions, customer information, and reporting.



Overview


Key Features


Multi-Store


Top 10 reasons to buy Microsoft RMS


Success Stories


Compare with Microsoft Point of Sale (POS)

Retail Tips and Advice
OVERVIEW

WHAT IS MICROSOFT DYNAMICS RMS?
Microsoft Dynamics Retail Management System (RMS) offers small and mid-market retailers a complete point-of-sale (POS) solution that can be adapted to meet unique retail requirements. This powerful software package automates POS processes and store operations, provides centralized control for multi-store retailers, and integrates with Microsoft Office system programs, Microsoft Dynamics GP, and other popular applications. Microsoft Dynamics RMS is built on a proven Microsoft platform that adapts to meet unique and changing retail needs.

AUTOMATE INVENTORY AND PURCHASING MANAGEMENT
| | |
| --- | --- |
| | Track and manage inventory using any stock and sales method and inventory types that include standard, serialized, kit, assembly, matrix, lot matrix, voucher, non-inventory, and weighed. |
| | Manage complex, multi-dimensional inventory requirements with easy-to-use matrix forms. |
| | Track item movement and supplier histories, quickly generate purchase orders, and add items on the fly. |
| | Export purchase orders to Microsoft Office Excel and Microsoft Office Word for easy customization and viewing in a matrix grid format. |

STREAMLINE TRANSACTION PROCESSING
Respond quickly to customer needs with efficient, personalized service.

| | |
| --- | --- |
| | Work with a customizable POS screen that offers immediate access to prices, availability, and stock location. |
| | Access customer histories at the POS; handle multiple tenders and partial payments at checkout; and quickly create and process returns, back orders, sales quotes, work orders, and layaways. |
| | Expedite checkouts, target customer preferences to offer up-sells and cross-sells, and implement automatic discounts for frequent shoppers. |
| | Eliminate credit card terminals and dedicated phone lines for card transaction processing. |

IMPROVE MARKETING EFFORTS
Target your marketing efforts based on accurate customer data, including preferences and detailed purchase histories.

| | |
| --- | --- |
| | Easily set up discounts, promotions, and sales to increase customer satisfaction. |
| | Work with flexible pricing structures to offer special pricing to your best customers. |
| | Send targeted mailings with offers and promotions to selected customers. |
| | Display up-sells so that associates can mention them. |
| | Collaborate with suppliers to advertise products, promotions, new items, or upcoming events to customers in line with a secondary net display. |

ANALYZE DATA WITH FLEXIBLE REPORTING OPTIONS
Access, analyze, and share current, detailed data across your entire business—including multiple store locations—with a wide range of flexible reports.

| | |
| --- | --- |
| | Preview, search, and print daily sales reports and journals by register, batch, and receipt number, as well as close cashier shifts quickly and accurately. |
| | Identify sales trends in every department or category, evaluate operations and financials, track results from sales and ad campaigns, and set and monitor business policies across stores. |
| | Export report information directly into Office Excel, XML, Comma Separated Value (CSV) files, or your email application. |
PROTECT YOUR INVESTMENT WITH RICH SUPPORT AND MAINTENANCE OFFERINGS
Microsoft Dynamics RMS helps minimize information technology (IT) costs with support and maintenance options that help you maximize uptime and adapt to changing business requirements. Click here for what is included!
| | |
| --- | --- |
| | As your business changes and grows, your Microsoft Certified Partner can provide support and assistance with customizing, integrating, and scaling your Microsoft Dynamics RMS solution. |
| | The Annual Maintenance Program is a bundled purchase for customers licensing Microsoft Dynamics RMS. The program includes free technical support calls, major feature releases, enhancements to training offerings, and rich online resources. |

Top of page
KEY FEATURES

INVENTORY AND PURCHASE MANAGEMENT
| | |
| --- | --- |
| | Track inventory by a variety of different item type from standard, serialized, kit, assembly, matrix, lot matrix, voucher, non-inventory, and weighed. |
| | RMS supports and unlimited amount of inventory items and transactions. |
| | Keep track of work orders, layaways, back orders, and quotes. |
| | Calculate your PO's by restock/reorder information or quantity sold automatically. |
| | Transfer inventory in/out of your stock with easy to use wizards. |

TRANSACTION PROCESSING
| | |
| --- | --- |
| | RMS supports a touch screen environment which helps speed up transaction time. |
| | Look up item prices, quantity on hand, and extra descriptions for improved service. |
| | Ship to multiple locations by selecting different carriers. |
| | Setup customer accounts and apply payments. |

PAYMENT CARD PROCESSING
| | |
| --- | --- |
| | Get rid of your credit card terminals and fully integrate with Microsoft RMS. |
| | Supports a variety of integration software such as PC Charge and IC Verify. |

PRICING AND SALES
| | |
| --- | --- |
| | Multiple discount schemes including Buy X Get Y for Z. |
| | Assign different price levels to certain customers. |
| | Discount entire sale or specific items. |

CUSTOMER MANAGEMENT
| | |
| --- | --- |
| | Reprint past receipts to help settle disputes and verify purchase dates. |
| | Sell even if the terminal connection is down by entering offline mode. |
| | Process returns, issue store credit, and process deposits on orders. |

EMPLOYEE MANAGEMENT
| | |
| --- | --- |
| | Supports a commission based organization. |
| | Ability to send messages to all cashiers via the POS. |
| | Improve your staff management by having a built-in time clock. |
| | RMS security settings can prevent access from and point within any program of RMS. |

REPORTING
| | |
| --- | --- |
| | Preview, print, and export all your reports. |
| | "Memorize" customized reports for the future. |
| | Filter, hide, sort, and group data to your likes. |
| | Quickly drill down from summary reports to detailed reports. |

INTEGRATION
| | |
| --- | --- |
| | RMS supports a variety of accounting packages including QuickBooks and Microsoft GP. |
| | Improve your business with wireless handheld for even more inventory control. |
| | Support eCommerce solutions for improved web sales. |

Top of page
MULTI-STORE

MICROSOFT RETAIL MANAGEMENT SYSTEM HEADQUARTERS
Microsoft Dynamics RMS delivers a complete retail pos solution that can be run as a stand-alone application in individual stores, as well as connected to the head office using Microsoft RMS Headquarters. Microsoft RMS HQ equips multi-store businesses or chains to roll up and manage data for all stores from the head office.

INVENTORY CONTROL AND TRACKING
Microsoft Business Solutions Retail Management System Headquarters (HQ) controls and tracks inventory at each store and for the enterprise as a whole. It offers detailed information on quantity in stock, reorder points, and restock levels for each item at each store. HQ then makes this information visible to the home office. Since some stores may have uniform or disparate inventories, HQ can invoke automatic inventory replenishment at the home office for any set of stores. A master inventory database can be set up and downloaded to any group of stores. Additionally, information on item types, departments, categories, suppliers, substitutes, aliases, parent relationships, and more, can be replicated to stores for consistent stock identification. Sales taxes can then be programmed individually by store per local regulations. HQ also promotes inventory balancing by managing stock transfers among stores with an inter-store quantity check feature, so you can check the inventory levels at all stores. Whenever stores upload their information, the quantities in HQ automatically change.

PURCHASE ORDERS
HQ's Purchase Order feature can identify what must be purchased, record all purchases, print POs and receive orders for the entire business or individual stores. It can automatically generate POs for selected items, by quantity sold during a period or for items that fall below restocking levels. Inter-store inventory transfers can be initiated from the head office or at the stores.

PRICING, SALES, AND PROMOTIONS
The head office can change and download item prices to specified store(s). Selected items can be put on sale at specific stores or across the entire business. Other special pricing can be set up for items, categories or departments, and then broadcasted as desired. Price changes can be programmed to take effect immediately or during a specified time period. Sales tracking HQ maintains highly detailed data from every transaction across the chain. These include invoice number, IDs of items sold, as-sold prices, tax collected, customer, cashier and sales rep IDs, and applicable serial number or matrix type. In HQ, detailed sales and profit analyses, sales commission and tax reports are easily generated. Plus, comprehensive data collection supports data warehousing and OLAP.

CUSTOMER MANAGEMENT AND MARKETING
HQ can keep a complete profile of every customer who has ever purchased from any of your stores or Web sites. This includes demographics, preferences, purchase or problem history, account balance and credit information. Chain-wide buying habits, shopping frequency and purchase amounts are readily available at the head office. HQ's customer data supports thorough and accurate database marketing and relationship selling to targeted customers. This data can be exported to CRM and ERP applications.

EMPLOYEE MANAGMEENT
HQ monitors sales reps, their hours and the registers they run. It can upload attendance records for computing hours and labor cost at the head office. It will centrally compute sales commissions based upon sales transactions and commission structures found in associates' profiles.

POWERFUL AND FLEXIBLE REPORTS
HQs powerful report generator offers instant, flexible access to a wealth of meaningful data. With point-and-click speed, it generates consolidated reports to show sales breakdowns, identify slow-moving items and check sales for any day- by store location, items, departments, categories, customer or taxes. Reports and graphs may be previewed on screen, printed or exported to other Windows-based software packages.

ADVANCED SECURITY FEATURES
HQ incorporates tight security to restrict employees' access and changes to sensitive information. It offers 31 security levels that protect screens and fields, report writing- every sensitive corner of your system and confidential data.

For more information, see our Microsoft HQ page.



Top of page
TOP 10 REASONS TO BUY MICROSOFT RMS

Respond rapidly to consumer demands, proactively manage inventory and pricing, and control critical business information across your retail network, from the point of sale (POS) to supply chain, customer, and financial management systems. Here are 10 ways that Microsoft Dynamics Retail Management System (RMS) can equip you to compete in a demanding, constantly changing retail marketplace.

1. MAKE BETTER USE OF YOUR EMPLOYEES' TIME AND ENERGY
Equipped with a familiar, Microsoft Office-like interface, a host of automated operations, and integrated information, your staff can focus on keeping pace with customer demand for products, and delivering superb service, even if they're new to their jobs. Associates can learn basic POS functions in minutes, while managers can ensure smooth operations at both the store level and at headquarters with real-time visibility into inventory, purchasing, and sales performance and trends.

2. FAST TRANSACTION PROCESSING LETS YOU KEEP PACE WITH RETAIL GIANTS
Today's customers simply expect checkout processes to go without a hitch, even for complex requests and transactions. With Microsoft Dynamics RMS, associates can check prices, availability, and stock location instantly. They'll be able to access complete customer information, manage multiple tenders and partial payments, and process debit and credit cards without the need for expensive middleware and high transaction fees. They can also quickly create and process returns, back orders, sales quotes, work orders, and layaways.

3. MAINTAIN TIGHT CONTROL OVER PRODUCTS, SHELF SPACE, AND SUPPLIERS
Microsoft Dynamics RMS is designed to help retailers respond rapidly to consumer demands, ensure efficient replenishment, and build cost-effective relationships across the entire supply chain. You can effortlessly track and manage inventory using any stock and sales method and a wide range of inventory types, and help reduce theft and shrinkage with system security. Specialty retailers in particular will welcome easy-to-use wizards that simplify management of complex, multi-dimensional inventory. Just as important, automated, customizable purchasing functionality gives you the control and flexibility you need to keep pace with specialized ordering requirements.

4. TRANSFORM SILOS OF INFORMATION INTO A CONNECTED ENTERPRISE
Integrate your head office, individual store offices, and POS information and processes. Microsoft Dynamics RMS delivers a complete POS solution that integrates with a number of Enterprise Resource Planning (ERP) and accounting applications such as Microsoft Dynamics GP, providing retailers with an end-to-end retail and financial management solution for managing a multi-store network. Along with reducing data entry and helping eliminate errors, your connected solution can help you adapt smoothly to changing mid-market requirements and drive a lower cost of ownership.

5. FOCUS ON INNOVATION AND GROWTH
Thousands of retailers are using Microsoft Dynamics RMS to meet demanding small and mid-market requirements. As you continue to grow your business across stores and retail channels, Microsoft SQL Server database technologies provide a flexible database for setting up new stores, managing and storing virtually unlimited information, and exchanging data across platforms to reach a global network of customers, partners, and suppliers. You can also extend the reach of your business and sales operations with add-on solutions from independent software vendors (ISVs), including e-commerce, mobility, business intelligence, and merchandising.

6. SIMPLIFY COMPLEXITY WITH CENTRALIZED CONTROL OF STORE INFORMATION
Microsoft Dynamics Retail Management System Headquarters equips multi-store businesses or chains to roll up and manage data for all stores from the head office. From one central location, you can view, analyze, and share information across your entire business, as well as manage purchasing and inventory chain-wide, by region, or by store. Centralized control over pricing helps ensure accuracy across all your stores and enables you to set up and monitor flexible pricing structures, discounts, promotions, and sales at both individual stores and chain-wide.

7. STAY ON TOP OF PERFORMANCE WITH ACCURATE DATA ABOUT SALES AND CUSTOMERS
Put your information to work with more than 100 standard reports and the ability to analyze and share information in multiple formats. You can know exactly what's selling best, who's buying, and when—by department, category, or store—decide on a dime what to buy or mark down, and track return on investment (ROI) for marketing initiatives.

8. HARDWARE REQUIREMENTS WON'T PUT YOU OUT OF POCKET
Microsoft Dynamics RMS can work with your existing computers or OPOS (OLE for POS) compatible peripherals. You can also purchase complete software and hardware packages from leading providers, designed to maximize affordability and quality for your total solution.

9. GAIN PEACE OF MIND WITH A SOLUTION DESIGNED TO DRIVE DOWN OWNERSHIP COSTS
Whether you want to simply install Microsoft Dynamics RMS in a few stores or deploy a chain-wide enterprise solution tailored to specific requirements, you can count on a flexible platform designed for integration and growth, rapid implementation, and expert assistance from your local Microsoft Certified Partner. Just as important, you'll have the backing of comprehensive maintenance and support that ensures you're current with updated releases and provides you with fast resolution of questions and problems.

10. GO AHEAD AND TAKE THAT VACATION
Microsoft Dynamics RMS lets you stay in control of your business even when you're out of the office. Because your business processes are based on an integrated, automated system, your operations can run smoothly whether you're on site or away. Automated tracking for all transactions and inventory movement helps reduce shrinkage, false returns, credit card fraud, and unauthorized discounts. Plus, built-in user security ensures employees have access only to the data they need to do their jobs. The result? Freedom to go home at the end of the day—or even to take the vacation you've put on hold.



Top of page