RETAIL TIPS AND ADVICE

10 reasons to automate
your retail business



Who uses Microsoft Retail
Management System?



5 steps to a winning retail
marketing campaign



Computers or old-
fashioned cash registers?



Achieving business
benefits from POS



Do you need a Microsoft
Partner?



How to prevent inventory
loss



Questions and Answers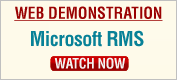 WHO USES MICROSOFT RETAIL MANAGEMENT SYSTEM?

Today's retailers know that their success depends on keeping pace with innovation—without the right technology, they simply cannot compete in a global marketplace. That's why thousands of small and mid-market retailers are turning to Microsoft Dynamics Retail Management System (RMS) as the ideal combination of deep functionality and flexible innovation:

| | |
| --- | --- |
| | Retailers taking hold of Microsoft Dynamics RMS want an integrated point of sale (POS) solution for managing operations within stores and across the business—from the point of sale to advanced inventory and purchasing management, rich customer management and marketing, and customizable reporting. |
| | They understand that profitability is driven by true investment protection—they want a solution built on a platform that integrates with other solutions and that can be customized and extended to meet specific, changing needs for unique retail environments. |
| | Finally, these retailers are looking to grow and expand through chain-wide management and control of business metrics that drive mid-market success. Microsoft Dynamics RMS can easily scale to meet the needs of core mid-market retailers with a chain of stores that operate under a decentralized business model, including franchises, buying groups, membership organizations, and more. |

See how Microsoft Dynamics RMS is changing the face of business for retailers.



Apparel, accessories


Beer, wine, liquor


Gift, novelty, souvenir


Sporting goods


Radio, television, electronics, appliances


Hobby, toys, games


Convenience food stores


Nursery, garden centers


Auto parts


Drug, pharmacy

Watch this video on how Microsoft Retail Management System could help you.

To find out more about Microsoft Retail Management System, Contact Us or speak to a customer service representative by using our Live Chat for more information.