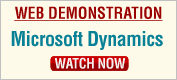 Solution Overview

Organization Profile
Shawn Nelson's near obsession to improve on 1970s Styrofoam-pellet-filled bean bags led to an 67-store chain and Web site selling 1,500 items. LoveSac plans 20 more locations before year end.

Business Situation
Corporate and franchise stores struggled with QuickBooks software. Reports lagged and item names differed by store. Buying was often guesswork, and inventory dollars were not maximized.

Solution
When a custom system fell flat, Microsoft® Retail Management System and Microsoft® Business Solutions–Great Plains® now speed lines and provide excellent sales and inventory reports.

Benefits
| | |
| --- | --- |
| - | Less inventory in more stores |
| - | Balanced inventories raise sales |
| - | Sales, customer, and stock reports now instantly available to corporate |
| - | Managers see data by store, region, and enterprise |

Hardware
| | |
| --- | --- |
| - | Hewlett-Packard rack-mount server with RAID hard disk and tape backup |
| - | Dell OptiPlex PCs |
| - | Voyager USB barcode scanners |
| - | Star 600 and 700 thermal printers |

Software and Services
| | |
| --- | --- |
| - | Microsoft Dynamics GP 9.0 |
| - | Microsoft Dynamics RMS |
| - | Microsoft Office 2003 |
| - | Microsoft Windows Server 2003 Enterprise Edition |
| - | Microsoft Windows XP Professional |

Vertical Industries

Country/Region


Unique, Nationwide Retail Chain Ties Down Fuzzy Inventory and Zips Up Neat Profits

LoveSac grew from a teenager's 1995 project to its first store in 2001 to a 67-store chain by early 2005. LoveSac makes comfy, foam-filled sacs and cubes that invite relaxed lounging. The products and their publicity spurred growth, but business procedures, chainwide visibility, and corporate controls were also informal. Inventory investment and the space to store it ballooned. "Rebel CEO" Shawn D. Nelson saw his business needed more solid underpinnings. POSitive Technology, a Microsoft® Certified Partner, presented Microsoft Retail Management System. Used with Microsoft Business Solutions–Great Plains® (now part of Microsoft Dynamics™), the two products provide local visibility, chainwide control, and business analytics. Inventory dollars have shrunk as stores and sales grow. Products can be moved where they sell best. Sales fluctuations are smoothed, shrinkage is negligible, and rising profits are more predictable.

BUSINESS SITUATION

Since opening its first store in 2001, LoveSac Life now owns a mix of 67 company and franchised stores in 50 cities nationwide and internationally. LoveSac achieved worldwide recognition for creating the product category of oversized foam-filled lounging furniture in several sizes of traditional rounds, cubes, and even "Sactionals" (LoveSac's version of sectional sofas).

| | | |
| --- | --- | --- |
| | I like knowing Microsoft will always be there with support and new technical innovations. With other companies, you aren't always sure. | |
| | Shawn D. Nelson, CEO, LoveSac | |
In January 2005, LoveSac's 28-year-old "Rebel CEO," Shawn D. Nelson, beat out 50,000 entrepreneurs to win U.S.$1,000,000 and three months as President of Richard Branson's Virgin Worldwide. After rave reviews from Branson, Nelson left the pilot's chair and returned to his LoveSac.

A stream of articles featuring LoveSac products in popular and niche magazines keeps the Web site clicking and new faces popping into stores. LoveSac's well-photographed SacMan receives invitations to events nationwide, from beauty pageants to Green Beret assemblies.

Cover fabrics include rip-stop cotton, rugged UltraCord, Microsuede for special occasions, even faux fur and college-branded models. Internal "Sacs" are rugged, double-stitched canvas. Matching accessories and a few store-specific products raise overall inventory to 1,500 items. As occurs in most single-lane retail stores, nearly all 275 employees wear many hats, selling, stocking merchandise, keeping stock and reserves organized, and verifying deliveries against shipping documents.

But the LoveSac chain was expanding like unpacked DuraFoam and, without a unified information system, the far-flung, independent, and enterprising nature of franchisees and managers raised troubling business issues. Most stores used only QuickBooks, so they lacked adequate point-of-sale and inventory tracking. A five-foot, round Sac with a Giraffe cover could have five names in five stores. Some reports took weeks to reach corporate offices and weren't easy to interpret. These factors barred cohesive understanding of enterprise-wide stock and sales levels, which made efficient ordering and distribution nearly impossible.

Nelson was concerned about sales. "To maximize sales in an 67-store chain," he says, "you need fast data you can trust. Knowledge from the East Coast could raise the whole chain's weekend revenues. Things change in hours. Is your new promotion working better in one region than another? I didn't have daily sales stats, and I couldn't trust the numbers."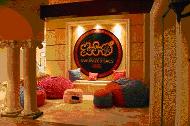 "Our replenishment personnel need instant information. We have to know what's in demand, then plan for foreign holidays, overseas delivery times, and customs. And then have backup plans because the unexpected will happen. Without factual and up-to-date knowledge, you really can't control and optimize everything you have to manage in a big retail chain."

Nelson says a watershed moment occurred during a meeting with investors. "They wanted our latest numbers on sales and new-product acceptance. I didn't have either, and it would have taken many phone calls and a day's wait to get them."

Karen Lindsay, Retail Project Manager at LoveSac, describes the ramifications of a large chain, whose sales vary by region and season, having inadequate management information. "Disparate naming conventions, slow communication to corporate [offices], and different managers' reporting styles meant we didn't have quick access to our gross numbers or the ability to track discounts, products' shelf-time, cash and product shrink, what item mix to manufacture, where to send what, or even accurate payroll costs."

As Love Sac manufactures its own products, the ramifications of unclear product demands impacted plants and suppliers, sometimes causing gluts, sometimes vacuums. "We always kept growing, but through smart marketing and product design, not tight business procedures," Lindsay says. Nelson and his management team foresaw that a serious valley in the economy could deflate the Sac's success. He wouldn't bet on that coin toss.

SOLUTION

LoveSac soon issued a large contract for custom-made inventory management software. But, as with many custom programming projects, milestones fell, costs rose, and each week brought new business needs to challenge its feature set. "When that project wound down," Lindsay says, "we spent 45 days in decision making to find a ready-made solution we would know already worked in other stores and chains. We looked broadly at several retail management systems, and in-depth at two."

WHY LOVESAC PICKED AN ALL-MICROSOFT RETAIL SOLUTION

We customized Microsoft Retail Management System and Great Plains to work with and leverage the business procedures that got this company where it is.
Karen Lindsay,
Retail Project Manager, LoveSac
Nelson recalls, "The reasonable price of the fully installed and working system was a key factor. Next came reliability and its flexibility to chain stores' needs. And I like knowing Microsoft will always be there with support and new technical innovations. With other companies, you aren't always sure."

LoveSac's Executive Vice President of Business Development, Scott McDonough, worked closely with a selection committee. The decision favored Microsoft® Retail Management System, as represented and demonstrated by POSitive Technology, a Microsoft Certified Partner, because the product demonstrated a successful track record of resolving complex retail challenges.

"POSitive showed us that this off-the-shelf package could be customized as needs and business circumstances change—and they always do," Lindsay says. The product-selection team acquired Microsoft Business Solutions–Great Plains® from Premier Computing Technologies in Salt Lake City, Utah, "because it's one of the most widely accepted and feature-rich accounting software packages on the market, and is compatible with Microsoft Retail Management System.

DEPLOYING AN INFORMATION SYSTEMS (IS) SOLUTION TO 80 UNITS
Implementation began in spring 2004 with deployment to all corporate stores and distribution centers, with software rollout to franchise and new store locations continuing. Today, 30 corporate stores, 37 franchises, and other business units rely on Microsoft Retail Management System for store-level management of sales, tender, customer histories, exact stock levels, and hourly reports to LoveSac corporate offices.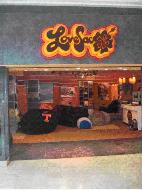 "We always knew," says Lindsay, "that planning and executing a national Inventory control and point-of-sale system for a chain this large would be daunting. But we have a highly qualified IS team, and we applaud the tremendous help from POSitive Technology's employee Hussein Elshamy, our trainer and project leader.

"In the end, we can't calculate the value this system has already delivered. It has also given us procedural safeguards to ensure growth as styles and business weather come and go."

LoveSac now has uniform product categories and item names. Its standardized item code allows easier tracking of revenue and inventories. Lindsay says, "We customized Microsoft Retail Management System and Great Plains to work with and leverage the business procedures that got this company where it is. We're always flexible, but we wanted software that wouldn't try to reshape how we do business."

BENEFITS

"Now the payday comes," says Lindsay. "Today we operate more stores with less inventory because we know what we have and where product is. With 40 [company] stores during Christmas 2003, we had more dollars and space tied up in inventory than we have today for 67. That's efficiency."

ACCURATE DATA POWERS GLOBAL CONTROL
"Today, those investors would have that product information in literally 30 seconds. Right after we installed the Microsoft solution, I noticed a huge day for one store that I could never have seen as fast without the new software," says Nelson. I asked 'How can we capitalize on that?' If we can see these quickly, and replicate them chainwide, it could be huge."

"I really look forward to seeing the midnight sales report on my PDA. You know where your overall company is. You know which stores had a good day. I can send instant ideas and changes if I need to," he says.

"We keep inventory balanced and attractive to each region's customers," says Lindsay. "Reports showed us one item would sell well in one region, but was piling up in another. We moved it and sold $10,000 in a few weeks. Then the Transfer-In/Transfer-Out feature made sure inventory was charged to the right business unit.

Now the payday comes. Today we operate more stores with less inventory because we know what we have and where product is.
Karen Lindsay,
Retail Project Manager, LoveSac
Previously, even if data had been perfect and timely, LoveSac didn't have the reporting flexibility it needed. Today, each LoveSac store uniformly calls a five-foot round with a reversible Rip-Stop Camouflage/Pumpkin Cover an CR5C2GCAM.

Each store runs Microsoft Retail Management System Store Operations, the complete store-level retail management solution, and automatically sends in hourly reports to Headquarters, the corporate-level managerial program in Microsoft Retail Management System. Headquarters consolidates and organizes chainwide data, enables management reporting by dozens of parameters in thousands of permutations, then distributes and implements price changes, sales, stock transfers, and other orders chainwide, by region, or store.

"Then our data goes into Great Plains at the end of each day," says Lindsay, "where we have business analytics and additional reporting power in its [Microsoft Business Solutions-] FRx® tools.

"Today, we can look at a report and almost 'see' how full or empty a storeroom is five states away. Knowing fast- and slow-moving items also tells us which products to promote and discount, Of course, this gives us better predictions to relay to plants and suppliers, which further helps avoid gluts and vacuums in our supply chain management."

FROM 67 STORE OWNERS AND MANAGERS
"Managers tell me they love its ability to drill down in the inventory and see what is selling well in which stores and regions," says Nelson. "They also drill down into individual transactions if there's any discrepancy."

Franchise owners and store managers can do daily spot checks "and have nearly perfect inventories," according to Lindsay. Previously, it was almost impossible to get an instant picture of remote inventories, or to track sales for a specific product or promotion, which may vary dramatically by product, region, and season.

"Microsoft Retail Management System can now help us greatly reduce shelf time on many core products," says Lindsay. "Our potential for recurring savings there is enormous."

Lindsay says, "Store managers love the reports, both printed and instantly available onscreen. They can respond in literally 10 seconds to a customer's inquiry asking about stock on hand. When other stores or corporate phones for help filling an order, managers see inventory in a few clicks. They can also watch stock levels and comparative item movement on a busy day—say during a sale." Lindsay receives calls and e-mails from managers who found the reports easy to learn and who use the several built-in graphing functions to more clearly see trends and relationships.

| | | |
| --- | --- | --- |
| | I really look forward to seeing the midnight sales report on my PDA. You know where your overall company is. You know which stores had good days. | |
| | Shawn D. Nelson, CEO, LoveSac | |
275 SALES REPRESENTATIVES SAY...
At the point of sale, associates found basic selling functions easy to learn and teach to new staff. "We often avoid a lost sale by searching for the desired inventory item, finding it at another store, then doing a transfer or a direct shipment to the customer. LoveSac is implementing a gift card system, which will undoubtedly yield additional sales."

LoveSac products generate word-of-mouth excitement among friends and prompt repeat purchases by customers, who often want a perfect match or harmonizing item. "In seconds, we can identify the exact color and size bought on any previous visit. We use customer sales histories in Store Operations in many ways," says Lindsay.

She reports highly favorable feedback from sales representatives about the new system's transaction speed and the intuitive ease of product lookup. "Sales reps love that they can print duplicate receipts, verify prices in case of returns, and go into the journal to find details of previous sales. A customer might even want to know which credit card she bought with last year. It's all there."

REPORTING AT EVERY LEVEL
"When making decisions, we can now turn to Microsoft Retail Management System to get data and see what's the best thing to do," says Lindsay. "We can check the global picture or focus on an individual store or a region. No more calling stores and distribution centers—or logging into their system remotely—to track their inventory. It's available right here at our fingertips.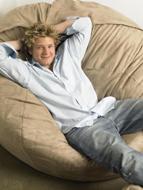 "We customize our own reports without hiring an expensive consultant," says Lindsay. "We use the filters then lay out reports as it suits us. We've created internal reporting systems for the database information. We export data to [Microsoft] Excel® [spreadsheet software], create formulas, and manipulate the data. Accounting interfaces data with Great Plains, through [Microsoft Visual] FoxPro® [database development system] or other software."

LoveSac uses Top Performer reports in Microsoft Retail Management System to assess its best stores, products, and people. Sales reports provide more detail on these entities. Inventory control and item lookup focus in on products or lines. And the Journal delivers every detail about any sale.

SAVINGS IN OTHER DEPARTMENTS
Shrinkage has nearly disappeared, saving thousands of dollars. "Now we can reliably hold employees accountable for their inventory," she says.

"Because we often drop-ship products," Lindsay explains, "we need to recover those costs. Now we can charge customers for shipping, and track the charges. Before, we sometimes ate these costs because they were not charged correctly to the customer, and accounted for as part of the sale.

"Staff hours required to take physical inventory have dropped dramatically, and accuracy is excellent. Payroll is much easier to track because we have in-sourced it to Great Plains."

Lindsay reports that LoveSac will expand Microsoft Retail Management System use into all new stores. "We'll also plan to greatly increase our in-house customization and reports."

Nelson says, "Using Microsoft Retail Management System and Great Plains together works great for a large chain, and they were relatively simple to bring on line. Chains should always define their business needs and data steps beforehand to smooth out large conversions."