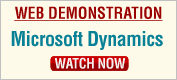 Solution Overview

Organization Profile
From a teeming Web site and a busy store in Ballard, Washington, Cookies sells more than 2,000 cookie-making ingredients, utensils, jars, tins, decorations, and bakeware.

Business Situation
Space is tight and items are seasonal, so daily trips to off-site storage mixed up stock levels. Web customers weren't happy when they saw an item, but couldn't get it, because buying hadn't equaled demand.

Solution
Realizing she needed to computerize, the owner acquired a Microsoft Dynamics™ – Point of Sale system based on an IBM ThinkCentre PC. It came with touch screen, scanner, pole display, and receipt printer.

Benefits
| | |
| --- | --- |
| - | Days end earlier because the system automatically tracks every item level |
| - | Staff know what's in store and storage |
| - | Buying occurs by numbers, not memory |
| - | Any type of shrinkage will be visible |
| - | Owner rests easily, knowing her knowledge is now in the computer |

Hardware
| | |
| --- | --- |
| - | IBM ThinkCentre PC |
| - | Elo touch screen |
| - | Epson TM-T88III receipt printer |
| - | Epson DM-D110 pole display |
| - | Symbol LS-2208 scanner |

Software and Services
| | |
| --- | --- |
| - | Microsoft Dynamics POS |
| - | Microsoft Office Accounting |
| - | Microsoft Windows XP Professional |

Vertical Industries

Country/Region


Cookie Paraphernalia Store Solves Inventory, Purchasing, and Transaction Problems

Keeping mental inventory of 2,000 small items and their rates of sale in the store and from the Web site was making Caryn Truitt, owner of Cookies, frazzled. Cookies is in Ballard, Washington, but storage is at home, so Truitt updated a large Microsoft® Excel® spreadsheet daily to track what was where. Days became long and errors crept in. Her electronic cash register didn't track items so buying required too much guesswork, especially when a stock-out could alienate Web customers. She acquired Microsoft Dynamics™ – Point of Sale, which includes Microsoft Office Accounting 2007. Her specific system came with an IBM ThinkCentre PC and retail peripherals. It resolved a baker's dozen problems because the software decreases its stock levels with each sale, and sends data to the accounting software. Truitt now buys more wisely, knows item levels, and is very glad for new peace of mind.

BUSINESS SITUATION

A charming shop aptly named Cookies sells nearly everything a home baker would need to make his or her cookies the envy of the party. Owner Caryn Truitt and an associate sell more than 2,000 SKUs (stock-keeping units) from a single register in the nearly 250-square-foot shop on Seattle's (Washington) well-known Market Street. A very complete and well- organized Web site sells classes and nearly all items available in the store.

At first, I thought this system was more than I needed for my size store....Now I see that using all its features will help me grow our revenues to the size I want.

Caryn Truitt
Owner, Cookies
The store and its 120 square feet of offsite storage are filled with aprons, potholders, towels, bakeware, utensils, baking sets, kits, cookbooks, recipe cards, cookie cutters and stamps, cookie jars, plates, tins, ingredients, mixes, specialty sugars, sprinkles, and decorations. Cookies carries items for religious and other holidays, sports, and even regional themes. From season to season, one item may outsell another, but cutters and sprinkles consistently bring in the highest gross.

"My main problems were with inventory," says Truitt. "Since my store is so small and storage is at my residence, I had to keep an Excel® spreadsheet to track what merchandise I had received and where it was. But when you're busy or tired, jobs like this don't always get done, so stock levels weren't correct. Even when we did them, human error creeps in."

Business was brisk, she says, but "An ECR [electronic cash register] gives you no way to track sales of each product to manage future ordering. When an item is hot, you want to restock it fast and sell more. I was trying to track 2,000 items, and their different rates of sale, in my head."

Truitt buys all she can at two annual shows, then fills in with smaller purchases throughout the year. Shelf time varies greatly, partly because she carries Christmas cookie cutters all year long. "And," she admits, "we had never done a true physical inventory because we have so many little items."

"A previous business associate had just put items on the floor without price tags. At the register, she just tried to remember or would lowball the item. But that cost us sales because people are wary of asking about unpriced things. Maybe it's not even for sale. If they ask and the price is too high, will they be embarrassed?"

Truitt considers hers a safe business, "But we had no idea what our shrinkage was, internal or external, and we never knew who was switching price tags on us before the register. With 2,000 items, it's hard for an associate to memorize everything."

SOLUTION

Truitt had never automated because she felt her store was too small to justify the cost. She thought she could manage well enough using paper and her electronic cash register (ECR). "I had been looking, but only for future use if I decide to franchise. I was looking into QuickBooks Point of Sale, but the business selling it couldn't answer any questions about it. They promised to learn the system and call me, but never did. Where would I get support? Since easy daily use and technical support were important to my growth plans, I didn't have the time to find someone who could demonstrate QuickBooks POS.

"I also considered a system of a small software company, and tried to talk to them at a gift show. Again, I couldn't get help, so I couldn't evaluate the product, so I left.

"I saw Microsoft Dynamics™ – Point of Sale at the same show. The company displaying it gave me a demonstration. It was easy to learn and it was very complete. And I knew I could get answers to questions when I needed them."

In November 2005, one of retail's busiest months, Cookies installed a Microsoft Dynamics – Point of Sale system combined with an IBM ThinkCentre PC and retail peripherals. Point of Sale comes with Microsoft® Office Accounting 2007 and automatically sends sales and other data to this powerful accounting solution.

The store was crowded with customers, new merchandise, and the system's boxes. Truitt says she could have sped installation by opening and connecting one peripheral at a time, rather than opening all the boxes. "I was like a kid at Christmas," she says.

Truitt's initial impressions about technical support proved accurate. "The Microsoft staff have been very helpful and quite polite not to laugh at some of the questions coming from a computer illiterate, even when I call frantically because I forgot something we covered before."

BENEFITS

"Microsoft Dynamics – Point of Sale has made me regret I put off automation," she says. Easy and thorough inventory control resolved a multitude of problems well known to Truitt and other retailers. "It tracks what I receive and when we sold it. And I have reports to prove it," she says.

Short, easy tasks get done sooner than tough ones. Now it's fast to enter inventory when it comes in, so my stock levels are always current.

Caryn Truitt
Owner, Cookies
"Finally! I don't have to keep up my Microsoft Excel spreadsheet every day when I receive merchandise or move it to or from storage," says Truitt. "Getting rid of that chore gives me back so much time.

"Just knowing what I have in stock, or need on the shelves, will cut down my purchasing time and make sure I don't over-order—or ignore something that's been selling well. Reports show me what sold best during the last buying period, so I know in advance what to stock up on at my two buying shows."

Truitt observes, "Short, easy tasks get done sooner than tough ones. Now it's fast to enter inventory when it comes in, so stock levels are always current. The Management screen in Point of Sale saves me tremendous time entering new merchandise."

SPEED AND CERTAINTY AT THE POINT OF SALE
The integrated barcoding in the IBM bundle with Point of Sale drives many benefits besides speeding up lines in the busy store. "If an item doesn't come with a barcode, we barcode and label it with a price here. The software prints our own labels with the barcode, price, and my SKU.

"This has definitely saved me money in shrinkage because no one can get away with switching labels. Scanning an item displays its description on the screen and the pole display. That description better match the item in my hand! If a thirteen-dollar copper cookie cutter displays a description of plain metal two-dollar cutter, everyone knows it.

"This year, I'll be able to do a complete inventory. That means I'll be able to get a true feel of whether I'm having problems with theft, and in what lines and departments."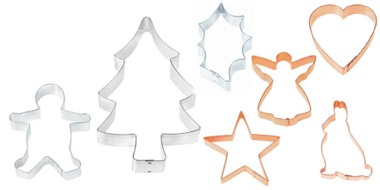 Cookies carries more than 2,000 styles of cookie cutters

EASE OF LEARNING
"My new store associate was very diligent. She took careful notes while I was teaching her the software," Truitt says. "By the end of the day, she was laughing at herself because the system was so easy. She didn't need notes. Today, she might refer to them for an unusual transaction, but it only takes a minute to refresh and it all makes sense."

In many systems, one of retail's most difficult transactions is removing from the sale an item that a customer has decided against buying. But Truitt says the Remove feature in Point of Sale is an amazing time-saver. "When you have to remove an item, it's such a relief to do it by just touching one button!"

Returns are equally painless. "I just scan the customer's receipt and bring up their entire transaction. If they bought it on sale, they get back the sale price, not full price."

Point of Sale even impresses clientele. "Without doubt, customers' favorite feature is the pole display," Truitt says. "It shows them everything I ring up, and the price they're paying. Several people have commented how nice that is for them. And if we make an error, they're more likely to catch it immediately, not after they got home."

RETAIL REPORTING KNOWLEDGE IS POWER
"I definitely use those reports!" asserts Truitt. "I use the time-clock report every time I do payroll. When I think I am running low on some products, I tailor a report to print just out-of-stock items, so I know what to urgently buy. But just as important, I can temporarily pull them from my Web site, so online customers aren't disappointed by ordering something we can't deliver.

"I really love our new ability to store every receipt. I've only had one bad check since installing it. I felt much calmer just displaying and printing out the actual receipt. Seeing the items jogged my memory and I knew who wrote the bad check.

"I already use Microsoft Office Accounting for deposits, payroll, and credit card sales, because I know it will save me tons of time."

When the time comes," says Truitt, "I will definitely be using Point of Sale in a second location. I'll need another register there, and I'll want one in my office to manage both stores, track sales, and price products. I'll also use the customer list in Point of Sale for mailers, e-mailers, promotions, and a newsletter."

TIME FOR ONESELF
"Now I can relax a little knowing that, if I can't get into the store or take some sick time, all that information that was once only in my head is now in the computer. It gives me peace of mind. And I can eventually take some time off and know the store will be okay"

Truitt feels other retailers should automate early and, "Plan on some time to set up your system and enter your inventory. Once that's done, the software takes such a burden off of you compared to an ECR you get from an office supply store."

She warns against a misconception common among smaller retailers. "At first, I thought this system was more than I needed for my size store. I was only checking out systems 'for the future.' Now I see that using all its features will help me grow our revenues to the size I want. Now I can confidently think about a second location because this product will make managing the stores and their inventory a lot less daunting. I don't think I'd attempt it without this software."