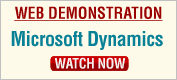 Solution Overview

Organization Profile
Clover sells approximately 10,000 toys and children's items from 1,300 square feet in Seattle, Washington. Products are often imported or hand-crafted one-of-a-kind educational or clothing items.

Business Situation
Serving crowds of eager customers, staff soon found their electronic cash register couldn't keep up with the lines. Any odd transaction slowed sales, and some customers left potential purchases and walked out.

Solution
A complete retail package of Microsoft Dynamics™ – Point of Sale on a Casio retail-hardened computer, with barcode reader, printer, and touch screen, installed smoothly to modernize Clover's information flow.

Benefits
| | |
| --- | --- |
| - | Owner prefers solution over more expensive systems |
| - | Sales move faster so income is rising |
| - | Tricky transactions go fast and smoothly |
| - | Staff learn system fast and love it |

Hardware
| | |
| --- | --- |
| - | Casio QT-8000 1.2GHz CPU |
| - | 15-inch TFT touch screen |
| - | PSC QS2500 barcode scanner |
| - | Epson TM-T88III receipt printer |

Software and Services
| | |
| --- | --- |
| - | Microsoft Dynamics POS |
| - | Microsoft Office Accounting |
| - | Microsoft Office XP Professional |

Vertical Industries

Country/Region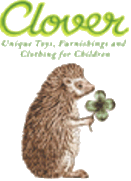 New Toy Store Opens to Eager Crowds, Keeps Staff Lean, and Owner Enjoys "Playing Store"

Clover, a high-end toy and children's furnishings store in Seattle, Washington, had a wonderful problem when crowds of parents and grandparents thronged its opening weeks. But even their new electronic cash register (ECR) couldn't keep up with impatient lines. It wouldn't show which products moved fast or slow, and it made any unusual transaction a painful one. The owner's earlier experience with other retail software made her leery of computers and delayed the conversion. But today, Microsoft Dynamics™ – Point of Sale and a retail-hardened Casio point-of-sale CPU speed lines through the holiday season, tell the owner which of her buys were wisest, and let staff enter new inventory whenever it's convenient—even while chatting with customers. And all with one less employee than the ECR demanded.

BUSINESS SITUATION

Sarah Furstenberg opened Clover in June 2004, relying on her design sense, a Bachelor of Fine Arts degree, and parenting knowledge to help select inventory. Clover's 1,300-square-foot selling area and 150 square feet of storage, in a restored brick building with 12-foot ceilings, are stacked with more than 10,000 items, often one-of-a-kind, hand-crafted offerings.

I know we ring up more dollars per hour with Microsoft Dynamics – Point of Sale than we ever could on the ECR. Now, window-shoppers see a short, fast line and are more willing to come inside.

Sarah Furstenberg
Owner, Clover
Clover sells an eclectic collage of children's toys from Europe and the United States, classic and wooden toys, educational and skill development items, games, art supplies, science kits, even children's clothes and dress-up costumes of natural and organic fibers. Furnishings include bedding and sheet sets, clocks, furniture, night lights, greeting cards, and traditional toys like marbles and jacks.

PUBLIC ENTHUSIASM; POINT OF SALE PROBLEMS
"We feel so lucky," Furstenberg says. "We were an instant hit. The first day was crowded and the crowds just continued." Transactions ranged from the ten to fifteen-dollar birthday gifts through purchases by grandparents who knew no limits. Clover's new electronic cash register (ECR) and three employees barely managed the rush.

Furstenberg had worked in retail organizations during college and before starting Clover, so she knew the challenges she would face. But retail realities can exceed what is foreseen. "We had problems that the ECR couldn't help us with," she says. "Price tags falling off would stop lines cold. If I wasn't in the store to set a price, staff had to call me. Sometimes, they'd tell a customer to come back tomorrow, and that completely killed the sale.

"Any oddity in a transaction stumped the ECR. Lines slowed and we'd see 'walk-aways' impatiently drop an armful of merchandise and walk out. When a phone order came in, how could I break into a line of people to register five items for a customer who's arriving in ten minutes?" Furstenberg says, "It was very difficult for employees because many items are so small that we can't put on a price tag. Sometimes they fall off. We used little price and merchandise books that always fell apart and were hard to keep updated with new merchandise and changing prices.

"The ECR's display only showed the last item entered, so if the counters got messy, we didn't know what had been rung up. In our second week, a grandmother came in and began piling purchase after purchase on the counter—one of the biggest sales we've had. She'd put things down, and we'd ring them up, then she'd rearrange things. Which items had we charged for? That happened all the time. Or a customer would pick up an item to show a friend. Did they put it back in the right pile? Had we charged twice or missed an item? We never knew."

PURCHASING IN THE DARK
Optimum purchasing was tricky because Clover's rate of turnover varies greatly by item, and the ECR's broad-brush categories gave Furstenberg no guidance on what to buy. She didn't have the short-term picture of what had sold well after a promotion, nor the mile-high view of what sold well over the last quarter or year.

"Since it only recorded categories, it reported only categories," she explains. "What exact products were ready to become a trend? Which steady customers bought what? What items moved when I was out of the store? If I always had to go look at shelves to find out, I may as well not have an ECR."

SOLUTION

In late 2005, Furstenberg received a trial version of Microsoft Dynamics™ – Point of Sale in the mail. She tinkered with it, but held back. Experience with a competitive product earlier in her retail career had made her wary of automating. "I was leery that software would be hard to use, and concerned about the difficulty of changing our habits and inputting inventory. The Retail Pro system I worked with before Clover wasn't smooth at the register," she says, "and it got very messy and expensive when we transferred inventory between two stores. The third-party vendor for that store was totally unaccountable and nonresponsive. Also, there was the barrier of hardware costs."

When Clover got an opportunity to obtain hardware and software installation through a special Microsoft offer, Furstenberg dove in. In June 2006, Clover installed Microsoft Dynamics – Point of Sale. This retail solution includes Microsoft® Office Accounting 2007, and her system came with a retail-hardened Casio CPU and retail peripherals.

Furstenberg explains, "One big barrier to automating, which Point of Sale overcame, was allowing us to rapidly enter our inventory whenever we wanted—not all at once. We key in items when we get a minute between customers, when we get shipments —even as we chat with customers. It's that quick to use. We got good at it right away. In six months, we've entered about 7,000 items this way. As an example, we've just bought the Playsam line of rocking horses from Sweden. I can see the whole product line on the register screen, and know every item's price."

She admits that she and staff went through a learning process during their earliest days of inventory entry. "It's inevitable that you learn about your business and its possibilities as you computerize. Now we need to incorporate that knowledge back into how we enter items. But that's easy. This software is incredibly forgiving, and incredibly easy to edit."

BENEFITS

Furstenberg finds Microsoft Dynamics – Point of Sale "definitely superior" to retail solutions she used in larger stores and chains. "It's far faster at the point of sale, easier to teach, quicker to get your result, and it has many more useful features," she says. "I never thought ringing up sales would be so easy and so much fun. We feel like we're playing store."

If you haven't used this people-friendly software, you don't realize how many retail problems—that don't seem to be automation-related—Point of Sale can solve for you.

Sarah Furstenberg
Owner, Clover
ONE SOLUTION RESOLVES MANY PROBLEMS
She also points out, "If you haven't used this people-friendly software, you don't realize how many retail problems—that don't seem to be automation-related—Point of Sale can solve for you. It used to be a trauma when we lost a price tag. Now it's a quick look-up. We just put in an item description. If a toddler starts howling in the middle of a checkout and mom has to tend to him, we use the Transaction on Hold feature to store what we've rung up so far, then move along to other customers. When a customer's cell phone rings, when hubby is outside with the shopping bags and credit cards—again, it's Transaction on Hold. And everything you've rung up is completely visible. No more confusions there. If that grandmother comes back, we're ready for her!"

POINT OF SALE SPEED RAISES REVENUES
Furstenberg says, "I know we ring up more dollars per hour with Microsoft Dynamics – Point of Sale than we ever could on the ECR. Now, window-shoppers see a short, fast line and are more willing to come inside. And I don't see the walk-aways who used to break my heart by dumping an armload of clothes and gifts when there was a delay at the ECR.

"The added bonus is that we need fewer employees to handle customers and ring up sales because Point of Sale works so much faster."

REPORTING POWER YIELDS
"Point of Sale keeps me totally updated on what we have and don't have in stock," she explains. "I buy a lot of one-off merchandise that I can't reorder next year because styles or specialty materials will change. With no chance to reorder hot items, I have to get it right the first time. If I know that recycled cashmere baby booties sold out fast last year, I'll look twice at a vendor who makes them next year. Point of Sale also helps me avoid unnecessary or unsuccessful items. In a specialty business, I can't ever purchase 'by the numbers,' but this software gives me facts to work with, and think with, before I order. I never had a shadow of that with my ECR."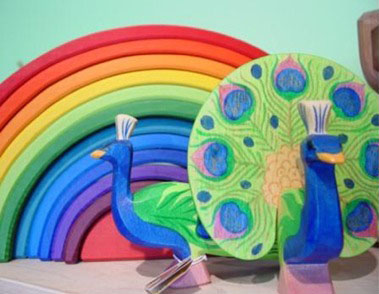 Clover display, attractive blend of color and shape

Furstenberg uses the many Top Performers reports most frequently. "When I've been out of the store, I want to know what sold in the last few hours. I check what sold best after each day, and I use it monthly to help guide purchasing."

EASING RETAIL'S MANY CHORES
She relates, "When I'm teaching a new person this software, I take them through one sale. After that, they can all make basic sales. It's that easy—with an exclamation point! Customers can always throw you a curve, but even returns are easy. And so is taking an item off a transaction. I also love being able to simply scan a customer's receipt to do an exchange."

Although the ability of Point of Sale to automatically send transactions to Microsoft Office Accounting 2007 is an important feature, the highly flexible reporting power in Point of Sale has made that unnecessary so far.

Furstenberg requires that associates use the LogOn/LogOff feature so she knows who has been on the register at any time throughout the day. "That just wasn't possible with the ECR," Furstenberg says.

THE LONGER VIEW
After New Year's, Furstenberg and staff will do physical inventory, so they know absolute stock levels. Then she plans to more fully use the new software's accounting capabilities. "I'm very excited about that direct connection between the retail and the accounting software, and I'm looking forward to all the time that will save me."

Plans for Clover's future include thoughts of a second store. "Since we achieved such rapid acceptance, and we now have an easy management solution in Point of Sale, we're thinking that the software would make the logistics of running a second store much easier."

Furstenberg offers this advice to retailers who are contemplating—or postponing—an upgrade. "What stops people from getting the modern automation they need is fear of technical problems. I understand that my previous experience with other software delayed our getting Point of Sale. But this software gives me everything I want, and almost teaches itself to associates. I expected complications, but got none!"