RETAIL TIPS AND ADVICE

10 reasons to automate
your retail business



Who uses Microsoft Retail
Management System?



5 steps to a winning retail
marketing campaign



Computers or old-
fashioned cash registers?



Achieving business
benefits from POS



Do you need a Microsoft
Partner?



How to prevent inventory
loss



Questions and Answers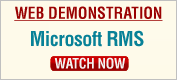 FIND OUT WHY SMALL AND MID-SIZED BUSINESSES ARE TURNING TO MICROSOFT RETAIL MANAGEMENT SYSTEM

You've heard it all before: Technology is your ticket to a competitive edge. But how do you, a small retailer, switch from manual cash registers, paper ledgers, and hand-written inventory notes to a high-tech, automated solution? And how do you do it without disrupting your world? If this is your dilemma, Microsoft Business Solutions Retail Management System could be a great fit for you. It's an easy-to-use, affordable way to automate a single or multiple store business.