RETAIL TIPS AND ADVICE

10 reasons to automate
your retail business



Who uses Microsoft Retail
Management System?



5 steps to a winning retail
marketing campaign



Computers or old-
fashioned cash registers?



Achieving business
benefits from POS



Do you need a Microsoft
Partner?



How to prevent inventory
loss



Questions and Answers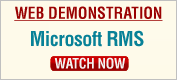 APPAREL STORE USES MICROSOFT DYNAMICS RMS

If you're a specialty apparel store owner, you know how difficult it is to keep business thriving—especially against large retailers. Microsoft Dynamics Retail Management System (RMS), an affordable, easy-to-implement software solution, can help you streamline business processes so your store grows more profitability. Microsoft Dynamics RMS is designed to help specialty apparel store retailers improve business processes. Among other things, you can improve your apparel business by setting up specialized item matrices for easy look-up, create custom sales and inventory reports on what's selling, and customize point of sale (POS) displays to help employees speak knowledgably.

7 KEY BENEFITS FOR APPAREL RETAILERS

1. TRACK INVENTORY EFFECTIVELY WITH INVENTORY TRACKING SOFTWARE
Apparel retailers need to know when to restock popular items—and when to eliminate items dragging down profits. Microsoft Dynamics RMS helps you get complete, accurate, and current information so you can make intelligent reordering choices. It's adaptable to your unique needs. Specialty apparel retailers can easily:
| | |
| --- | --- |
| | Track and manage hard goods, soft goods, and convenience items. |
| | Work with matrix and lot matrix methods. |
| | Manage multi-dimensional inventory requirements with easy-to-use matrix forms. |
| | Upload item costs to headquarters when cost information change at the store level. |
| | Simplify inventory tracking with serialized items and multiple serial numbers. |
| | Produce assembly kits and items. |
| | Track inventory by specifics, such as weighed, measured, and by bin. |
| | Manage an unlimited number of inventory items and transactions. |
| | Place items on backorder for future deliveries from the POS. |
| | Automate your inventory replenishment based on reorder point/restock level or quantity sold. |
| | Compare multiple suppliers and their pricing on individual items. |
| | Create purchase orders that reflect the matrices you set up within your system. |
| | Export purchase orders to Office Excel and Office Word for easy customization and viewing in a matrix grid format. |
2. ENHANCE YOUR CUSTOMERS' SHOPPING EXPERIENCE
Your sales staff will have access to complete customer information that helps them sell more effectively. They will also be able to process complex transactions seamlessly. You can also:
| | |
| --- | --- |
| | Capture, show, or hide customer contact and demographics on the POS screen. |
| | Instantly access a complete history of customer purchases, payments, and account information at the POS. Suggest relevant up-sells, sale items, and volume discounts to customers. |
| | Reprint electronic receipts to resolve disputes, speed rebates, and verify purchase dates and amounts. |
| | Target your mailings directly to customers' special interests. |
| | Accommodate partial payments and account payments. |
| | Handle work orders, backorders, layaways, and quotes. Grant automatic discounts and differential pricing to special customers. Serve others while keeping a stalled transaction "on hold." |
| | Accept multiple tenders, credit cards, debit cards, coupons, gift vouchers, foreign currencies, and government stamps. |
| | Sell when your network is down. |
3. SAVE TIME AND MONEY
Jump-start productivity at your specialty apparel store with a solution that's easy to learn and use, yet offers the power and flexibility you need to adapt quickly within a changing marketplace.
| | |
| --- | --- |
| | Install and easily set up Microsoft Dynamics Retail Management System Store Operations so that employees can learn POS functions in minutes. |
| | Lock out—or empower—any employee's access to sensitive data. |
| | Automate inventory management to reduce shrinkage and slow-moving items. |
| | Speed time-consuming tasks; for example, use wizards to bulk-update prices and inventory data. Help ensure optimal credit card discount rates when cards need to be entered by hand with Address Verification Support (AVS). |
| | Know which employees sell best. Predict which days or hours to staff up—or cut back. |
4. USE CUSTOMIZABLE MANAGEMENT TOOLS
You'll have the power to quickly identify sales trends and track results from sales campaigns because you'll have immediate insight into daily transactions and operations.
| | |
| --- | --- |
| | Configure your POS screens to show exactly the information your cashiers and sales clerks need. |
| | Customize receipts and price labels with logos and promotional messages. |
| | Use various pricing structures for markups and discounts, including "Buy X, Get Y" and Mix/Match discount scenarios. |
| | Set up new sales and promotions—fast. |
| | Get intelligent information for buying with ordering levels, best-price suppliers, and automatic POS. |
| | Make our wizards do your work. It takes just minutes to input new items, manage inventory, and perform everyday chores. |
| | Create different security levels for each employee. Data fields can be hidden, view-only, or changeable. |
5. GET COMPREHENSIVE, FLEXIBLE REPORTS
Accurate and timely data help you make smarter decisions. Know exactly what sold best in every department, category, and season; quickly decide what to buy or mark down; and track return on investment for marketing initiatives.

| | |
| --- | --- |
| | Generate sales and inventory reports to help you decide what products you want to order from distributors. |
| | Track return on investment from your ads, mailings, promotions, sales, and discounts. |
| | Preview, print, or export data in multiple formats. |
| | Add logos and graphics to formal reports. |
6. GET THE BENEFITS OF CENTRALIZED INFORMATION
Need to generate custom sales reports? Send financials to your accounting program? Or sell through an e-commerce storefront? Microsoft Retail Management System Store Operations can help deliver. Built on the latest Microsoft technologies, this integrated solution keeps information moving smoothly across your entire business and connects easily with other applications, platforms, and peripherals. Here are a few ways it can help:
| | |
| --- | --- |
| | Microsoft Dynamics RMS can be integrated with legacy systems, accounting or financial software, or Electronic Draft Capture (EDC). |
| | Extend Microsoft Dynamics RMS to e-commerce storefronts using third-party add-ons. |
| | Make in-store traffic, catalog sales, and phone and e-commerce orders feed each other — all with the help of a Microsoft partner and third-party solutions. |
| | Manage accounts receivable, then trade POS data with popular accounting software to eliminate double entry. |
| | Use EDC and integrate with leading credit card services to reduce fraud and keyboard errors. |
| | Integrate Web sales from multiple sites with the help of a Microsoft partner and a third-party application. |
| | Use the Microsoft Dynamics RMS as a data collector for back-end Electronic Retail Planning/Customer Relationship Management (CRM) applications. |
| | Enable personal digital assistant (PDA) and mobile/wireless stations with the help of your Microsoft partner. |
| | Ship and track orders online. |
7. GROWS WITH YOUR BUSINESS
You can help protect your investment and keep the same software and systems as you pursue chain-wide success or simply grow into multiple stores and retail channels. Here are a few things to keep in mind:

| | |
| --- | --- |
| | You can add new lanes or stores to your system with minimal disruptions to retail service. |
| | A common POS platform that spans single or multi-store locations is offered through Microsoft Dynamics RMS. |
| | Add customers and products to your system—flexible Microsoft SQL Server technologies let you store and manage virtually unlimited amounts of information. |
| | Invest in your business, not in information technology (IT) support. Microsoft Dynamics RMS does not require an expensive IT staff to set up and maintain, and it adapts to meet specific retail needs. As your business changes and grows, your Microsoft Certified Business Solutions Partner can provide support and assistance with customizing, integrating, and scaling your solution. |
| | Count on Microsoft. Start a long-lasting relationship backed by one of the world's leading technology providers. Microsoft Business Solutions is a family of connected applications and services for small and mid-sized businesses, with years of experience delivering business applications and services known worldwide for top quality. |