RETAIL TIPS AND ADVICE

10 reasons to automate
your retail business



Who uses Microsoft Retail
Management System?



5 steps to a winning retail
marketing campaign



Computers or old-
fashioned cash registers?



Achieving business
benefits from POS



Do you need a Microsoft
Partner?



How to prevent inventory
loss



Questions and Answers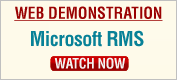 DO YOU NEED A MICROSOFT PARTNER?

WHAT'S A MICROSOFT PARTNER? DO YOU NEED ONE?
For many small business owners, the idea of setting up Microsoft Business Solutions Retail Management System may sound daunting. That's where a Microsoft partner comes in.

PRODUCT EXPERTS HELP YOU FROM THE START
Microsoft Retail Management System isn't a software application that you purchase at a store. Instead, you'll buy it through a Microsoft partner who will work with you to install the system. Microsoft partners are trained consultants who have retail industry expertise and are certified to sell and install Microsoft Retail Management System. (These professionals are also known as Value Added Resellers, or VARs.) In most instances, partners also train you and your employees on how to use the system.

SMOOTH IMPLEMENTATION AND LONG-TERM SUPPORT
When you first start working with a Microsoft partner, you'll get a comprehensive needs analysis to see if Microsoft Retail Management System is a good fit for your business.

The partner will:

| | |
| --- | --- |
| | Find out what hardware and training you'll need. |
| | Work with you on a purchase and service contract that commits them to providing the software, hardware, and services that best meet your requirements. |

Developing a good working relationship with your partner ensures successful long-term implementation and adoption of the system. Your purchase also includes a support package that gives you access to Web and phone-based technical help from Microsoft and a free software upgrade for the first year.