RETAIL TIPS AND ADVICE

10 reasons to automate
your retail business



Who uses Microsoft Retail
Management System?



5 steps to a winning retail
marketing campaign



Computers or old-
fashioned cash registers?



Achieving business
benefits from POS



Do you need a Microsoft
Partner?



How to prevent inventory
loss



Questions and Answers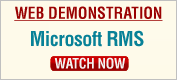 COMPUTERS OR OLD-FASHIONED CASH REGISTERS?

TAILORED TO MEET YOUR BUSINESS NEEDS
With Microsoft Business Solutions for Retail Management System, you get an easy-to-use, affordable solution that streamlines business processes, integrates with other applications, and adapts to meet your specific retail needs. The Microsoft Retail Management System modules:

| | |
| --- | --- |
| | Integrated Card Processing |
| | Microsoft Retail Management System Headquarters |
| | Microsoft Retail Management System Store Operations |

SET UP AND USE EASILY
You can set up Microsoft Retail Management System quickly and tailor it to meet specific needs. With access to expert support and assistance, you can have a complete retail management system up and running in no time.

| | |
| --- | --- |
| | Minimal training. With no lengthy training sessions, you can begin using Microsoft Retail Management System almost immediately. The built-in wizards and intuitive user interface make learning easy. |
| | Help when you need it. The POS Solution offers support when you need it and can help you understand how to gain the maximum benefit from your system. |

TRACK AND MANAGE INVENTORY EFFICIENTLY
Microsoft Retail Management System eliminates the need to conduct inefficient, manual stock counts, so you save time and reduce employee overhead.

| | |
| --- | --- |
| | Stay on top of trends. Monitor buying patterns more efficiently and make better decisions when ordering, buying, and pricing. With a better handle on your inventory and how fast it takes to "turn," you can increase sales. |
| | Flexible tracking system. You can track and manage items across your business using any inventory method, including services, layaways, work orders, and back orders. Compatible inventory types include standard, serialized, kit, assembly, matrix, lot matrix, voucher, non-inventory, and weighed. |

STREAMLINE POINT-OF-SALE PROCESSES
Think of all the advantages your business can realize with a system in place that can automate your in-store transaction processes, as well as integrate POS transactions with your accounting software.

| | |
| --- | --- |
| | Instant information access. Your associates work with a customizable point-of-sale screen that enables them to check prices, availability, and stock location instantly. They'll be able to access complete customer information and quickly process returns, back orders, sales quotes, work orders, and layaways. |
| | Simplified processes. Eliminate the need for separate point-of-sale terminals for credit cards, and your sales associates can process transactions more quickly. Automated processes make it simple to balance multiple tenders efficiently and accurately, so employees can save valuable time and furnish data directly to your accounting system. |

INTEGRATE AND OPERATE WITH YOUR EXISTING SYSTEMS
Microsoft Retail Management System tailors itself to your unique operation, right out of the box. It provides a system that can grow along with your business.

| | |
| --- | --- |
| | Minimal hardware requirements. All you need is a Windows-based computing device that accommodates Windows 98 or later. It can also utilize many common point-of-sale devices such as printers, bar-code readers, magnetic-strip readers, and cash drawers. It works with notebook and Tablet PCs as well as various PDA, mobile, and wireless devices. |
| | Invest in your business, not in IT support. You don't need an extensive IT staff to set up and maintain Microsoft Retail Management System. It's built to adapt easily to specific retail needs. As your business changes and grows, your Microsoft Business Solutions partners can provide support and assistance with customizing, integrating, and scaling your solution. |

Affordable solution, quick return on investment



Grows with your business