RETAIL TIPS AND ADVICE

10 reasons to automate
your retail business



Who uses Microsoft Retail
Management System?



5 steps to a winning retail
marketing campaign



Computers or old-
fashioned cash registers?



Achieving business
benefits from POS



Do you need a Microsoft
Partner?



How to prevent inventory
loss



Questions and Answers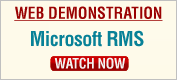 COMPUTERS OR OLD-FASHIONED CASH REGISTERS?

GROWS WITH YOUR BUSINESS
Microsoft Business Solutions for Retail Management System helps you protect your investment. You can keep the same software and systems as your business grows into multiple stores and channels. And, when you're ready to capitalize on the valuable information captured in your system, you can integrate seamlessly with other solutions, helping channel your growth for maximum potential.

EXPAND EASILY
Ready to open a new store? With Microsoft Retail Management System, you can keep using the same software and systems, even as you grow into multiple stores and retail channels.

| | |
| --- | --- |
| | Expandable information storage. As you add customers and products to your system, flexible Microsoft SQL Server technologies let you store and manage virtually unlimited amounts of information. |
| | Cost-effective expansion. Your system won't become obsolete simply because your business grew. The solution you use today will work for your business tomorrow. |

INTEGRATE WITH OTHER SOLUTIONS
Seamless integration with other business solutions can increase the value of your Microsoft Retail Management System solution. You also can integrate Microsoft Retail Management System with PDA, mobile, and wireless solutions.

| | |
| --- | --- |
| | Reduce data entry. Because it integrates with popular business applications like Microsoft Business Solutions Financials and Microsoft Small Business Manager, your staff doesn't have to spend valuable time re-keying data across systems. |
| | Integrate wireless technology. Microsoft Retail Management System can also integrate with popular PDA, mobile, and wireless solutions. That means you'll never be far from the information you need to keep things running smoothly. |

INVEST IN YOUR BUSINESS
Microsoft Retail Management System doesn't require a huge investment in IT support. Instead, the solution enables you to focus on what's important for your business — improving customer service and increasing sales.

| | |
| --- | --- |
| | Adapts to your needs. Microsoft Retail Management System is designed specifically to adapt to the unique needs of your business environment — without missing a beat. |
| | Support when you want. Your Microsoft Business Solutions partners can provide support and assistance with customizing, integrating, and scaling your solution. |

COUNT ON MICROSOFT
When you install a Microsoft Retail Management System solution, you begin a long-lasting relationship backed by one of the world's leading technology providers.

| | |
| --- | --- |
| | Connected applications. Microsoft Business Solutions is a family of connected applications and services for small and mid-sized businesses. With full integration, your solution can provide a lasting benefit that grows with your business. |
| | Years of experience. You can feel confident knowing that your business needs are supported by a company with years of experience delivering business applications and services worldwide. |

Tailored to meet your business needs



Affordable Solution, Quick Return on Investment