RETAIL TIPS AND ADVICE

10 reasons to automate
your retail business



Who uses Microsoft Retail
Management System?



5 steps to a winning retail
marketing campaign



Computers or old-
fashioned cash registers?



Achieving business
benefits from POS



Do you need a Microsoft
Partner?



How to prevent inventory
loss



Questions and Answers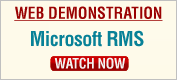 COMPUTERS OR OLD-FASHIONED CASH REGISTERS?

AFFORDABLE SOLUTION, QUICK RETURN ON INVESTMENT
Microsoft Business Solutions for Retail Management System provides you with an affordable, out-of-the-box solution with the features needed to provide a quick return on your investment. It can also help you reduce operating and labor costs to maximize revenue.

MAXIMIZE CASH-IN PER CUSTOMER
Microsoft Retail Management System can help you make the most of every transaction. By accessing customer history and product details, your staff can increase sales and customer satisfaction.

| | |
| --- | --- |
| | Target customer preferences. Sales associates can use the system to suggest up-sells and cross-sells, and advertise other products at point of sale with on-screen displays. |
| | Expand customer reach. Increase revenue with targeted campaigns, multi-channel marketing, catalog sales, and phone orders. |

MINIMIZE LABOR COSTS
Easy to learn and use, Microsoft Retail Management System helps ensure that managers and associates get up to speed quickly.

| | |
| --- | --- |
| | No data re-entry. Comprehensive functionality and shared data systems reduce the need to re-enter information, freeing your staff to focus on managing and selling more effectively. |
| | Insight reduces costs. With full visibility into business information, you'll know when to increase staff or cut back, and which associates bring in the highest revenues. |

REDUCE INVENTORY COSTS AND OUT-OF-STOCKS
Maintain tight control over inventory with automatically generated purchase orders and stock levels.

| | |
| --- | --- |
| | Automatic replenishment. Centralized purchasing and in-store transfers enable you to replenish items efficiently and cost-effectively. |
| | Know your vendor. Visibility into supplier histories makes it easy to select vendors who offer the best service and the lowest prices. |

SIMPLIFIED CARD PROCESSING WITH REDUCED COSTS
Microsoft Retail Management System helps provide quick access to authorizations and makes it easier to capture electronic signatures. With discounted transaction fees, you can capture more sales in less time.

| | |
| --- | --- |
| | Faster transactions. Electronic Data Capture can accelerate card transactions by up to 600 percent. It also eliminates the need for additional card terminals. |
| | Substantial discounts. Through a partnership with Citibank Merchant Services, Microsoft Retail Management System offers integrated card processing, including substantial discounts on services. |

Tailored to meet your business needs



Grows with your business