RETAIL TIPS AND ADVICE

10 reasons to automate
your retail business



Who uses Microsoft Retail
Management System?



5 steps to a winning retail
marketing campaign



Computers or old-
fashioned cash registers?



Achieving business
benefits from POS



Do you need a Microsoft
Partner?



How to prevent inventory
loss



Questions and Answers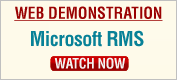 COMPUTERS OR OLD-FASHIONED CASH REGISTERS?

With Microsoft Business Solutions for Retail Management System, you get an easy-to-use, affordable solution that streamlines business processes, integrates with other applications, and adapts to meet your specific retail needs.



Tailored to meet your business needs

This retail system is easy to set up and use. It can help you do everything from tracking inventory to streamlining point-of-sale processes.



Affordable Solution, Quick Return on Investment

For a small investment, you can develop tighter inventory controls and free your staff to focus on selling.



Grows with your business

With Microsoft Retail Management System, you can keep using the same software and systems, even as you grow into multiple stores and retail channels.