RETAIL TIPS AND ADVICE

10 reasons to automate
your retail business



Who uses Microsoft Retail
Management System?



5 steps to a winning retail
marketing campaign



Computers or old-
fashioned cash registers?



Achieving business
benefits from POS



Do you need a Microsoft
Partner?



How to prevent inventory
loss



Questions and Answers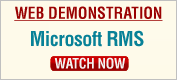 5 STEPS TO A WINNING RETAIL MARKETING CAMPAIGN

STEP 5: FOLLOW UP WITH GUESTS

1. FOLLOW POST-EVENT- ETIQUETTE
By the time the wine tasting event is over, Julia has collected a great deal of information from her customers that she didn't previously have.

How does she thank her customers for attending the event? She can do so in a newsletter and e-mail messages. Those who attended can get event-specific coupons to the next wine tasting event, and they will be encouraged to invite their friends, too, Dan King said.

2. DISTRIBUTE AN EVENT SURVEY
Julia's customers could complete a survey before leaving the wine tasting or fill it out and mail it back to the store at their convenience They would also be asked for permission to use their quotes in an upcoming newsletter.

Julia could use the following questions for her survey:

| | |
| --- | --- |
| | What was your favorite aspect of our event? |
| | Do you have any suggestions on what you'd like to see next time? |
| | What did you learn about wines that you didn't know before? |
| | Would you be interested in attending another wine tasting event? What evening works best for you? |

3. SPECIAL FOLLOW-UP DATA-BY PROFITABILITY
For the big-time buyers at your event, treat them with special care. For example, Julia could host another eventójust for them.

RETAIL MARKETING QUESTIONS?
The POS Geeks consultants are ready to answer your questions about running a retail marketing campaign and using Microsoft Retail Management System to do it.



Submit a Question



Introduction



Step 1: Gather customer information



Step 2: Target the "right" customers



Step 3: Create effective communication



Step 4: Host an event



Step 5: Follow up with guests