RETAIL TIPS AND ADVICE

10 reasons to automate
your retail business



Who uses Microsoft Retail
Management System?



5 steps to a winning retail
marketing campaign



Computers or old-
fashioned cash registers?



Achieving business
benefits from POS



Do you need a Microsoft
Partner?



How to prevent inventory
loss



Questions and Answers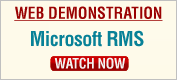 5 STEPS TO A WINNING RETAIL MARKETING CAMPAIGN

STEP 4: HOST AN EVENT

1. CAPTURE GUEST INFORMATION AT THE EVENT
It's finally the big night of Julia's wine tasting event. She greets her guests and introduces the evening's itinerary. In her hand is a simple clipboard with paper and a pen. It's an "organic" look befitting a wine tasting event, Dan King says. And it's a prime opportunity to collect details about her customers' likes and dislikes, he adds.

2. PROMOTE PARTNER BUSINESSES
Julia invited businesses that complement her own to participate in the wine tasting. It's a win-win situation for everyone involved: Julia receives free donations from her partner businesses, and the partner businesses get free advertising.

3. OFFER GUESTS A REASON TO COME BACK
"Give customers a reason to visit," King says. "That's what advertising is all about."

Julia could provide her special guests several reasons to visit her store again soon:


| | |
| --- | --- |
| | Offer customers a coupon only good for 15 to 30 days, like the example to the right, so they have a reason to return within a certain period of time. |
| | Promote a training class that will be hosted at the store in the next month. |
| | Invite customers and their friends to future special events. |

Introduction



Step 1: Gather customer information



Step 2: Target the "right" customers



Step 3: Create effective communication



Step 4: Host an event



Step 5: Follow up with guests