RETAIL TIPS AND ADVICE

10 reasons to automate
your retail business



Who uses Microsoft Retail
Management System?



5 steps to a winning retail
marketing campaign



Computers or old-
fashioned cash registers?



Achieving business
benefits from POS



Do you need a Microsoft
Partner?



How to prevent inventory
loss



Questions and Answers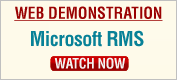 5 STEPS TO A WINNING RETAIL MARKETING CAMPAIGN

STEP 3: CREATE EFFECTIVE COMMUNICATION

Julia is now ready to launch her first marketing effort.

1. DESIGN INNOVATIONS TO THE EVENT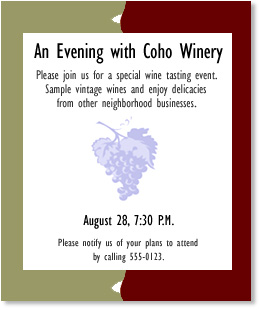 2. ANNOUNCE THE EVENT
After sending her invitations, Julia can start send an e-mail message–or a mass mailing—to remind her targeted customers about the wine tasting.

3. REVIEW AN EVENT READINESS CHECKLIST
Before a big event, it's helpful to double-check you've completed all necessary preparations. Julia can spend more time with her guests during the tasting if she takes the time to verify she's taken care of last-minute details.



Walk through a check list that could help Julia plan her wine tasting event (28 KB Microsoft Word file*).



Introduction



Step 1: Gather customer information



Step 2: Target the "right" customers



Step 3: Create effective communication



Step 4: Host an event



Step 5: Follow up with guests