RETAIL TIPS AND ADVICE

10 reasons to automate
your retail business



Who uses Microsoft Retail
Management System?



5 steps to a winning retail
marketing campaign



Computers or old-
fashioned cash registers?



Achieving business
benefits from POS



Do you need a Microsoft
Partner?



How to prevent inventory
loss



Questions and Answers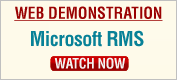 5 STEPS TO A WINNING RETAIL MARKETING CAMPAIGN

STEP 2: TARGET THE "RIGHT" CUSTOMERS

1. SEGMENT BY PROFITABILITY
Your mid-tier customers are poised to become your store's greatest fans. How do you figure out who they are? Here's how Julia could do it:

The old-fashioned way. Julia could look at receipts from the past three months and determine who is buying her most profitable products, who is spending the most money per month, and how often these customers buy, retail consultant Dan King says.

"She [could do] it the old-fashioned way by looking at receipts," he explained. "She could also put this information into an [Microsoft Office] Excel spreadsheet."

The new, automated way. "With Microsoft Business Solutions Retail Management System, you can mine for that information about your customers with certain filter criteria, and, with a touch of a button, you've got accurate up-to-date information," King explains. "You could target these mid-tier customers, or any other specific segment, quickly with this automated solution."

| | |
| --- | --- |
| | Click the screenshot on the left to take a look at the customer information you can receive with the help of Microsoft Retail Management System. |

2. REVIEW THE DATA
Check your information to make sure you have the right list of people. This verification is an important step to take before you launch your marketing effort.

3. DEVELOP A CONTACT LIST
Once Julia has her mid-tier customer list, she can complete a spreadsheet with the following information:

| | |
| --- | --- |
| | Home or Business Address |
| | Home or Business Phone Number |
| | E-mail Address |
| | Product Preferences |

Introduction



Step 1: Gather customer information



Step 2: Target the "right" customers



Step 3: Create effective communication



Step 4: Host an event



Step 5: Follow up with guests