RETAIL TIPS AND ADVICE

10 reasons to automate
your retail business



Who uses Microsoft Retail
Management System?



5 steps to a winning retail
marketing campaign



Computers or old-
fashioned cash registers?



Achieving business
benefits from POS



Do you need a Microsoft
Partner?



How to prevent inventory
loss



Questions and Answers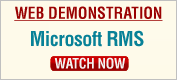 5 STEPS TO A WINNING RETAIL MARKETING CAMPAIGN

STEP 1: GATHER CUSTOMER INFORMATION

1. LET YOUR CUSTOMERS KNOW WHY YOU'RE ASKING FOR THEIR PERSONAL INFORMATION
This will help ease any anxiety your customers may have about giving out their phone number or e-mail address.

One of the best ways for a business owner to collect customer information is to have an outline ready for staff members to follow at the point-of-sale.

Hear a Conversation
1:15 min

20K | 96K

Get Windows Media Player

Summary
Listen as a cashier at Julia's store asks a customer for his personal information and explains what it will be used for.

2. CREATE MOTIVATION FOR YOUR CUSTOMERS TO PROVIDE THEIR INFORMATION
Consider offering the following incentives to your customers who give you their personal information:

"Loyalty" or "Preferred Customer" discount cards. These generally look like a punch card that, once filled, offer customers discounts.

Training classes and educational seminars. This builds a community of customers who may spread the word about your store's benefits and the personal attention your customers receive.

3. PROTECT YOUR CUSTOMERS' PRIVACY
Train your sales staff to ensure your customers that their personal information is for in-store use only. Plus, be sure to post a privacy statement on your store's Web site that spells out how customer information is used.



Introduction



Step 1: Gather customer information



Step 2: Target the "right" customers



Step 3: Create effective communication



Step 4: Host an event



Step 5: Follow up with guests