RETAIL TIPS AND ADVICE

10 reasons to automate
your retail business



Who uses Microsoft Retail
Management System?



5 steps to a winning retail
marketing campaign



Computers or old-
fashioned cash registers?



Achieving business
benefits from POS



Do you need a Microsoft
Partner?



How to prevent inventory
loss



Questions and Answers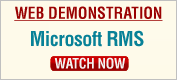 5 STEPS TO A WINNING RETAIL MARKETING CAMPAIGN

By
Melanie J. Mavrides


Your customers fall into three categories. Bargain hunters visit your retail store, pick over last year's holiday inventory, then disappear for months. Casual shoppers chat up your sales staff and buy sometimes. But devoted customers, your loyal clientele, love your store, buy often, and refer their friends to you.

How do you get more devoted customers? One of the best ways is to host a special event that can persuade your mid-tier customers to become your best customers, according to experts. "Selling to existing customers is easier than spending money to acquire new ones," says Dan King, a retail industry consultant and Microsoft Certified Partner.

Hear Julia's Story
1:00 min

20K | 96K

Get Windows Media Player

Summary
The scenario on the next few pages outlines five steps small retailers or business owners can take to run a top-notch retail marketing effort. In this example, you'll follow Julia, a small wine merchant, as she uses the five steps to plan and host a wine tasting event with a mission: To nudge her mid-tier customers into the fold of devoted shoppers.

click on Step 1 to continue . . .

Step 1: Gather customer information



Step 2: Target the "right" customers



Step 3: Create effective communication



Step 4: Host an event



Step 5: Follow up with guests