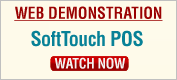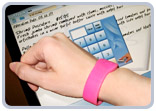 Imagine never swiping another employee ID card, punching in employee access codes or having to wipe the grease off those biometric scanners? Touchless Sign-on™ is the world's fastest POS employee authentication system. Employees simply wear Touchless wristbands, which trigger an automatic sign-on as they move their hand toward the POS touch screen.

Imagine servers and bar tenders accessing their POS stations hundreds of times every day and night. Each time having to swipe a card, enter a security code or align a finger on a biometric scanner. This inefficiency not only wastes valuable time, but wears out costly swipe cards and magnetic readers. The result is money out of our pocket.

The innovation team at SoftTouch has resolved this costly inefficiency by introducing Touchless Sign-on™. The world's fastest POS authentication technology. It's so simple, there's no training necessary. Just slide on the Touchless Sign-on™ wristband and start using the POS workstation. The patent pending Touchess Sign-on™ proximity scanner automatically detects the wrist band and signs onto the POS workstation as the wearer moves his finger toward the POS touch screen.

Tired of your staff losing their ID Swipe cards? Touchless Sign-on™ wristbands can be temporarily assigned to the wait staff for the duration of their shift, which means they leave the wristbands at your facility. The best part is, you don't need a manager to assign them!

Our flagship Point of Sale and restaurant management product provides an essential productivity solution for restaurants from quick-service to upscale fine dining. Our latest innovation is Touchless Sign-on™; the wait staff wears RFID bracelets that trigger an automatic logon at the POS station when the user is within range. No more swiping ID cards or punching in access codes.