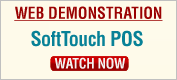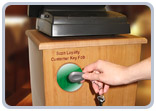 SmartHost™ is a powerful, full featured call-ahead and waiting list system tightly integrated with SoftTouch POS. It provides real time seating activity and customer displays. This feature-rich table management system provides a comprehensive business workflow solution. At the point of entry, this intelligent system accurately forecasts wait times using proprietary Predictive Seating™ technology, which matches customers' seating preferences to user configurable table attributes such as: smoking, patio, booth, window seat, guest count, etc.

Moreover, the system will recall customers' seating preferences and order history through the use of a loyalty RFID key fob that the customer can self-scan at the hostess station. Furthermore, its unique AI (artificial intelligence) engine is designed to capture and summarize the activity in your establishment, thus providing you with crucial information to drive more customers, increase profitability and customer satisfaction, and reduce labor costs. At a glance, the hostess or management can view virtually every table activity detail from food served and coursing information to predicted departure time and target revenue status.

SmartHost™ does all the hard work for you. It is all you need for a successful operation of high volume hospitality business.

| | |
| --- | --- |
| | Complete and full featured call-ahead and waiting list system |
| | Tight integration with SoftTouch POS |
| | Real time seating activity |
| | Convenient, interactive customer displays |
| | Unmatched performance and ease of use |
| | Eliminates the need to purchase costly table management and waiting list packages |
| | No more need to hire staff to walk around and manually check the status of tables |
| | Never seen before communication bridge between servers and management |

WEB DEMONSTRATION
View this Web demonstration for a glimpse at SoftTouch SmartHost™ and how it can increase your business success. You will learn new ways to serve your customers more effectively, manage business performance, and keep pace with competitors with this powerful call-ahead waiting list system.