Restaurant POS Software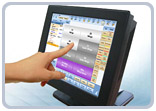 SoftTouch POS is the only Restaurant POS Software solution with many restaurant operation functions: Take Out, Delivery Operations, Dining Room, Counter Operations, Dining Room, and a powerful BackOffice included in one software package without any costly software upgrades. SoftTouch features an easy to use interface, fast order placement, accurate customer search, incredible speed and much more! With these operation functions, SoftTouch gives you a complete set of tools so that you can run a successful restaurant.

SOFTTOUCH POS HIGHLIGHTS
| | |
| --- | --- |
| | FREE unlimited software upgrades! |
| | No reoccurring yearly license fees! |
| | System redundancy and fault tolerance! If your server fails, your Point of Sale terminals will be uninterrupted. An additional removable hard drive will be needed to enable this feature. |



FULL SOFTWARE SOLUTION TO COMMON FUNCTIONS
SoftTouch provides all the necessary tools to manage your Restaurant, Nightclub or Bar, Delivery and Quick Service restaurant all with a single integrated system.

EASY TO LEARN, POWERFUL SOFTWARE TO USE
SoftTouch features an intuitive touch screen system, with easy to navigate menus enabling restaurant owners to quickly process orders and transactions including other daily management tasks.

OTHER SOFTTOUCH POS FEATURES

RENTALS
SoftTouch POS is capable of managing all your hourly rentals for you. Boat rentals, Pool tables, VIP rooms and much more.

SECURITY
With advanced security options you can assign each employee individual rights based on their roles.

REPORTS
SoftTouch provides detailed color reports enabling restaurant owner's valuable management data to monitor and improve.

CREDIT CARD PROCESSING
A fully integrated credit card software interface allows restaurant owners to process credit card and debit card transactions.

SUPER DEPARTMENTS
Restaurants are able to group their departments either by standard, family or super departments. Common uses are food, merchandise, liquor, etc.

BIOMETRIC SECURITY (OPTIONAL)
Restaurants can now use finger-print security measures replacing the traditional magnetic swipe method. Employee's simply place their finger on the biometric device which authenticates their account and gives them access to the system.

PAYROLL
SoftTouch provides enhanced payroll functions which provide employee wage reports and timekeeping.

HOUSE ACCOUNTS
Allows customers to have an in house account, allowing them to pay at a later time.

EMPLOYEE SCHEDULING
Allows custom employee schedules to be entered and enforced, which helps reduce wasted labor costs by not allowing employees to clock in early or take breaks any time they like.

MENU AND PRICES SCHEDULES
SoftTouch provides unlimited menu items and different price level scheduling for lunch and dinner.

REVENUE CENTER REPORTING
Create custom revenue centers and generate reports accordingly.